Safety Training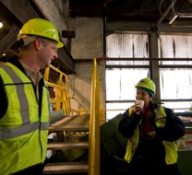 Mark Hart is authorized to train construction and general industry workers according to OSHA requirements. He provides the 10 and 30 hour outreach safety and health training for construction and general industry workers, in English and Spanish.
He designs and implements safety programs across the country, and in Latin America. Consulting and training services include training supervisors how to:
Improve operating efficiency
Perform employee observations
Conduct accident investigations
Maintain training documentation
Perform job hazard analyses
Every industrial facilty is different and has unique opportunities and challenges. Training Consultants Inc. will deliver a training program designed to address the unique challenges at your facility.
Health and Safety Plans:
A properly executed Health and Safety Plan is critical to regulatory compliance and efficient operations at every industrial facility. The Health and Safety Plan should be updated periodically, especially when operating conditions change at the facility. This is an opportunity to formulate a clear, concise document that will result in:
Relevant training for your site personnel
Better relationships with regulatory officials
Improved compliance and community relations